I thought... since it's Yamada's birthday on the 9th I'll make an endless picspam/pimp post. He deserves one for being amazing.
FACTS

Name:
山田 涼介 // Yamada Ryosuke
Born:
May 9th, 1993 in Tokyo Prefecture.
He lives in the Kanagawa Prefecture. (I have a bias to Kanagawa-ken because Yokohama is my favourite city.)
Usually called Yama-chan by friends and fans.
His bloody type is B and the Johnny's sempai he admires the most is
Domoto Koichi
. He has said in interviews that when he was young he went to a Kinki Kids concert and he thought Koichi was really cool. We can interpret it as fanboying. :)
In an episode of
Shin Domoto Kyoudai
Yamada got to sit next to Koichi and ask him about a message he sent him through a magazine (note: Koichi said "let's get some coffe and hang out sometime", but there was a typo and instead of ko-hi, it said ko-shi. It was very cute). Since then they even had a photoshoot together for one of the idol magazines. Photographs will be added later.
Yamada likes... strawberries, eggplants, meat, cooking, social studies, the color white and orange and the number 4. He doesn't like tomatoes (don't blame him) and fermented soybean (like natto for example). 
Random trivia about Yama-chan:
He's best friends with
Nakajima Yuto
.
He has a collection of air riffles in his room (in a big glass case).
He has a collection of over 300 manga as well.
He's afraid of ghosts, dark places and airplanes.
He's usually quite loud, but sometimes he will be very quiet.
His favourite sport is soccer and he wanted to be a soccer player when he was younger.
Yamada got a total of 20 Jr Awards in 2008, which broke Akanishi Jin's record of 16. So now he's the most award winner.
He likes hearing the fangirls scream at concerts (and so he likes stripping to have them scream more).
Despite popular belief he's not overly confided in his dancing, singing, acting skills and like any teenagers needs help and encouragement.
He gets really attached to his drama roles and pretty much cries every time he finishes filming a project because of the overwhelming feelings.
Since this post is all about Yama-chan appreciation, his hotness, cuteness and sheer ability to make
me
the fangirls nosebleed, I'll start at the very beginning.
Yamada entered Johnny's Entertainment in August 12th, 2004 (he was in the 5th grade back then) through some auditions held by the Ya-ya-yah show at the time. Although I do not have have the video myself or any screencaps you can go and
check it out
here
. It's in two parts and Yama-chan is that squishy thing, you can't miss it. Morimoto Ryutaro also auditioned at the time.
As a Johnny's Junior he really perfected his dancing (he's said that he always practiced/practices three hours a day) and his singing.
He participated in the PVs of
Seishun Amigo
(Shuuji to Akira), Venus (Tackey & Tsubasa) and
Fever to Future
(kitty GYM).
He's also backdanced for many concerts such as NEWS' Never Ending Wonderful Story (it's an epic 2 disc DVD tour) and even
Arashi's Final Time concert
with the rest of Hey! Say! JUMP.
Here's some pictures of
chibi Yama-chan
~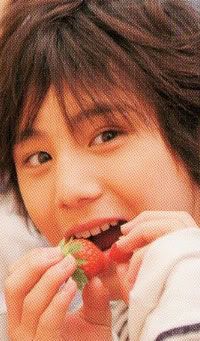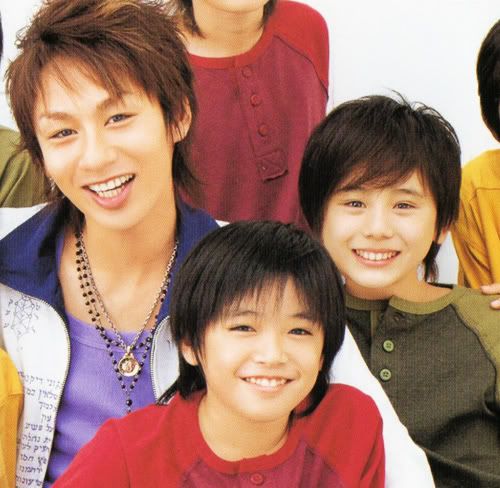 He really likes strawberries as said earlier on (Juniors calendar 07-08). The second one is from the Juniors calendar of 06-07. *mustsquishface!*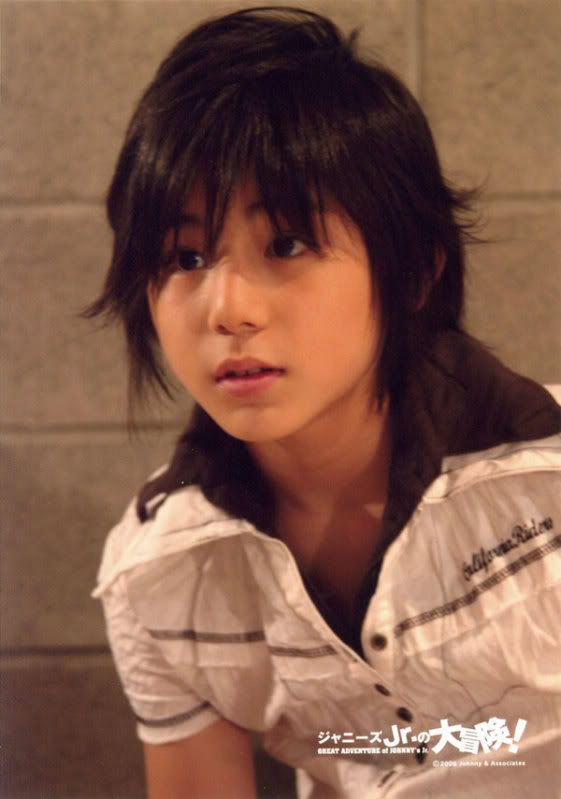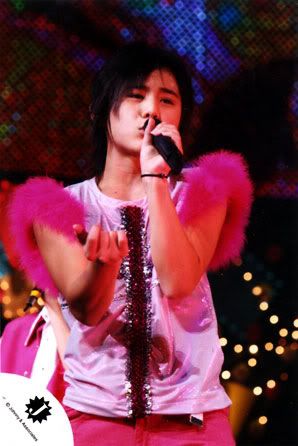 Note that the pink is also proof that he can make anything look good. Fluffy Yama-chan~ kyuun!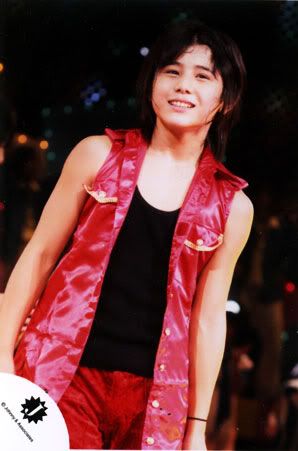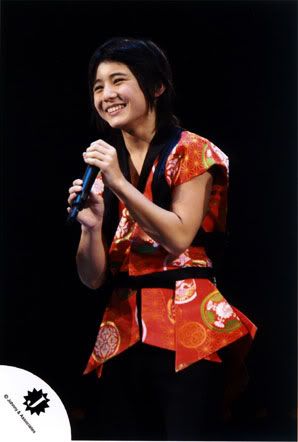 And these are two of those photos that make me feel like a pedo when I see them. He's got such a cute face~
In the summer of 2006 Yamada got his first acting role as Amakusa Ryuu in
Tantei Gakuen Q
. He acted along Kamiki Ryunosuke, Shida Mirai and Kaname Jun. The tanpatsu (aka special) was actually quite successful and a year later they turned it into a renzoku drama (full length/11 episodes filled with goodness).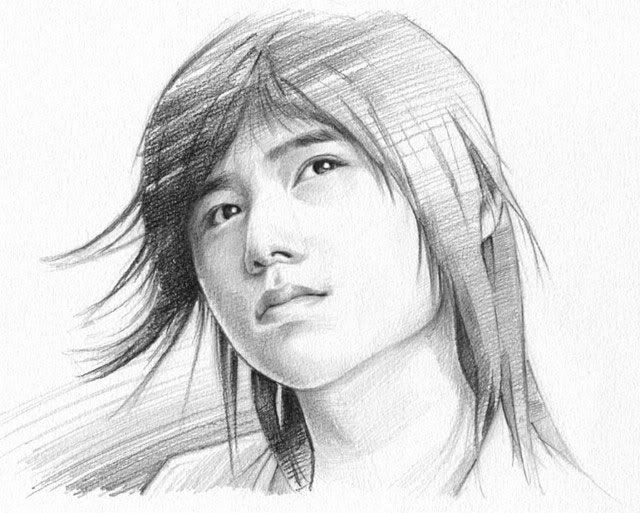 The drawing is from the ending song of the drama (but it's perfect that I had to share this instead of the actual screencap). Sadly I don't know who drew this, but if you do, please tell me~~~ If you haven't watched the drama I really recommend it. I think it's awesome. (BAIT:
OPENING theme
-
ENDING theme
)
I think Yamada did a pretty good job in the drama considering that it was his first time acting.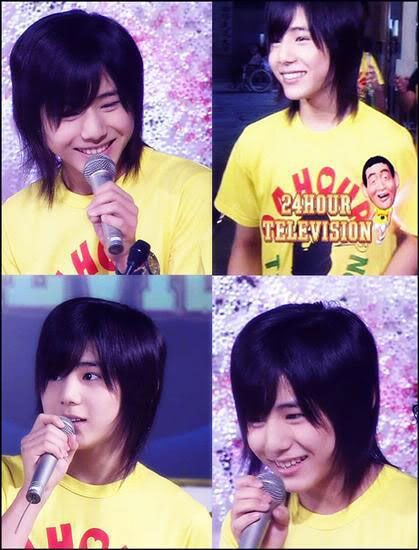 Also along with other members of the cast they hosted the 24 Hour television. I'm not sure exactly when that happened as there doesn't seem to be any actual video evidence of the thing. However the photos are very cute, ne?
In the meantime, April 2007 the temporary Hey! Say! 7 unit was formed. The one with Yamada, Chinen, Najajima, Daiki and Takaki. And they released the Hey! Say! single in August of the same year (
Yamada Ryosuke side only
).
The song Hey! Say! was the second opening theme to the anime
Lovely Complex
. I really recomend the movie with Koike Teppei, but the anime is super cute. BON BON, which is also in the Hey! Say! single was the second ending of the anime.
I want to take this moment to point out the Yamada/Nakajima friendship. They became quickly friends in the jimusho after walking home together and well, the rest is history. Not really. I'm a victim of the
YamaJima
love so I will picspam you with chibi YamaJima now.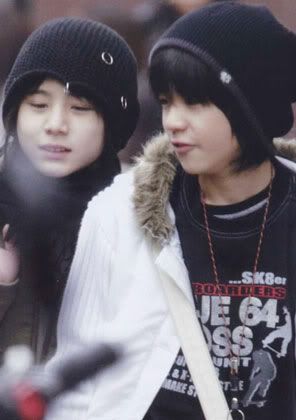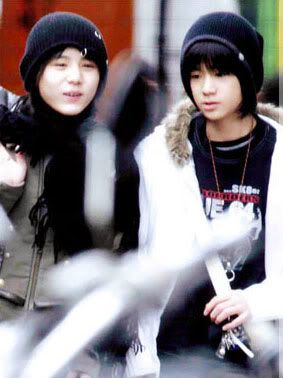 When I see these two together having fun, I can't help but smile and be happy. <3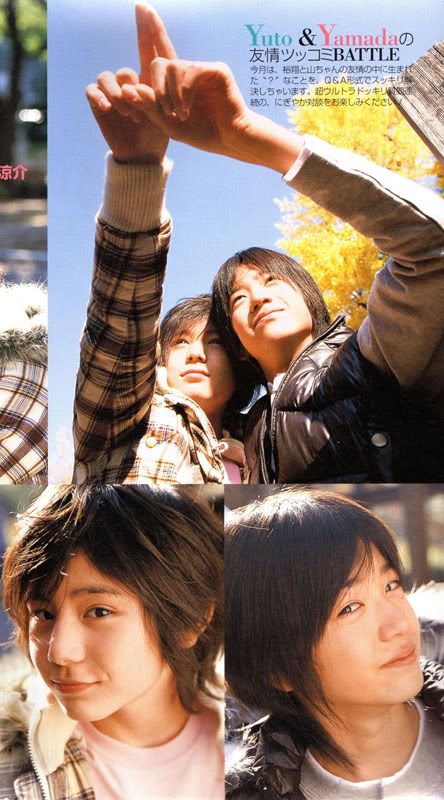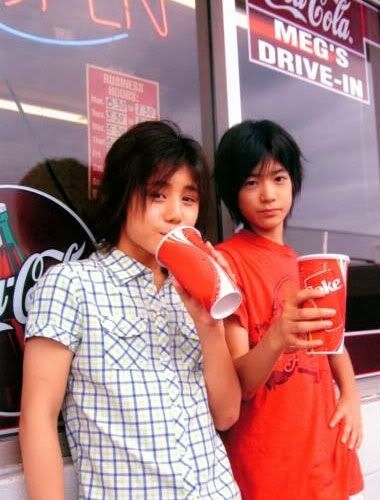 Typical examples of a YamaJima date~ <3
In September 2007 the temporary unit Hey! Say! 7 was disbanded and basically its members changed to Yamada Ryosuke, Nakajima Yuto, Chinen Yuri, Okamoto Keito and Morimoto Ryutaro. And along with Hey! Say! BEST they formed the 10 member group Hey! Say! JUMP. I think they have too much fun... ¬_¬
Back to the picspam now. Yamada always manages to look his best.
Let's look at the
cute side
... and sometimes dorky side.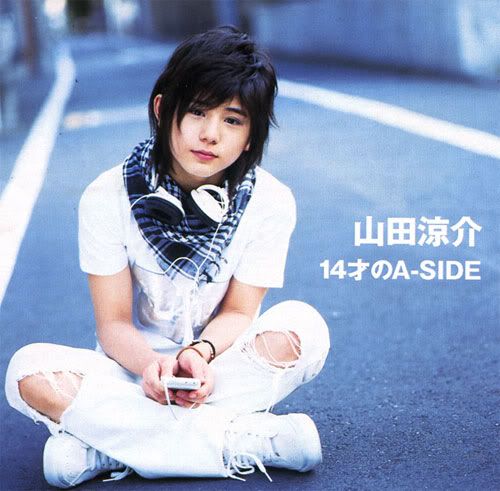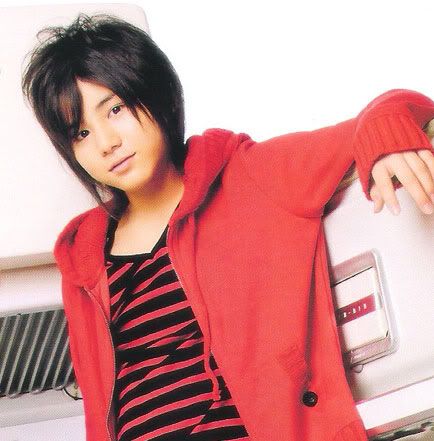 DORK ALERT!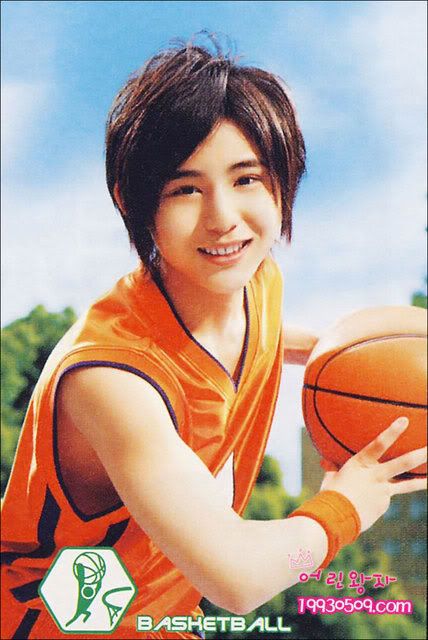 Manga and... well, soccer actually. From the DECA SPORTS CM for Wii.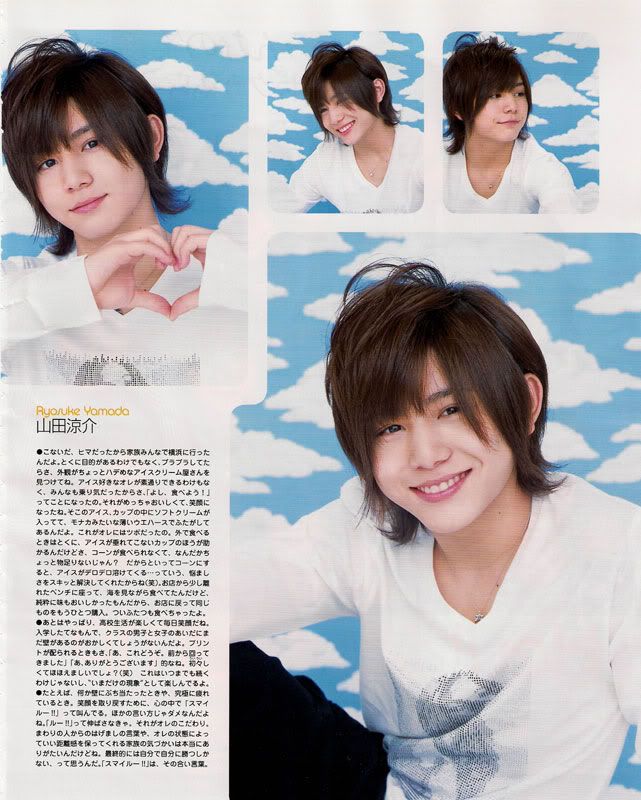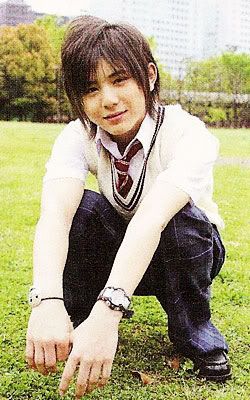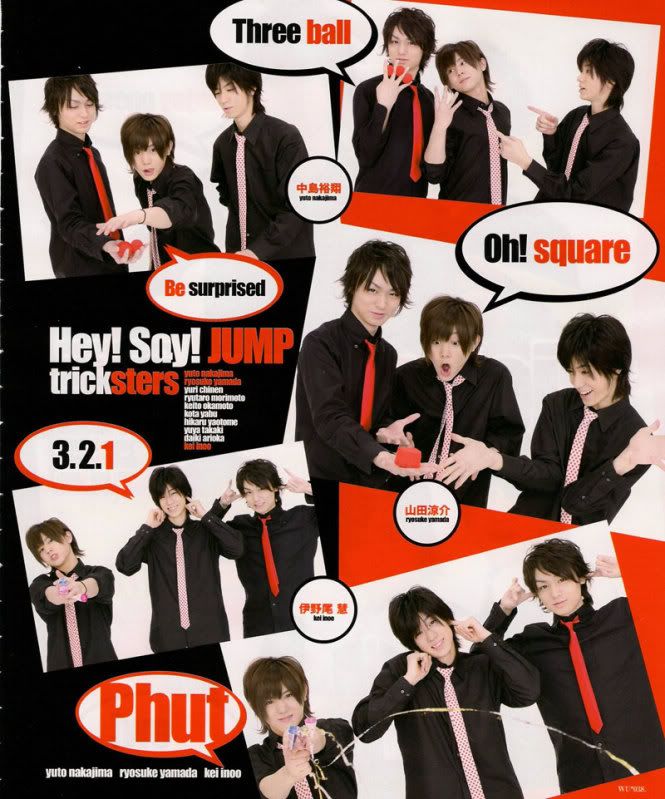 I love the yamadas section! <3 Despite the weird costumes.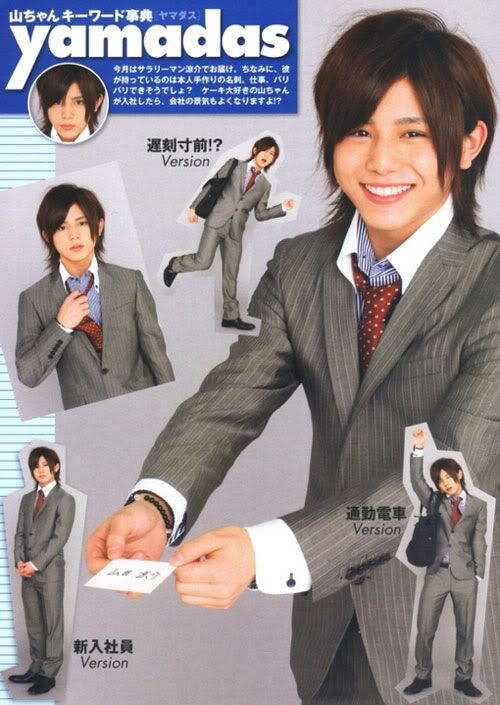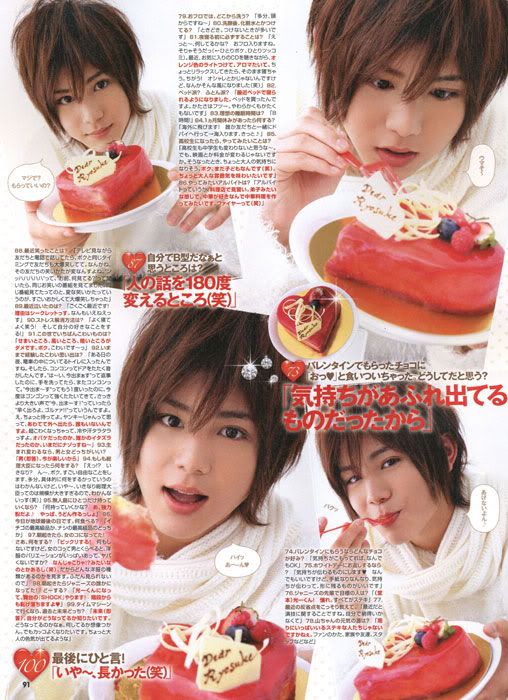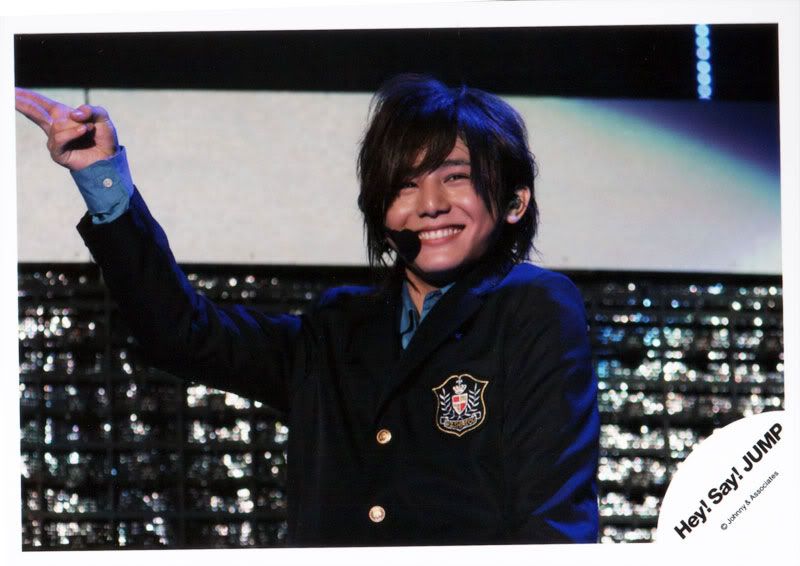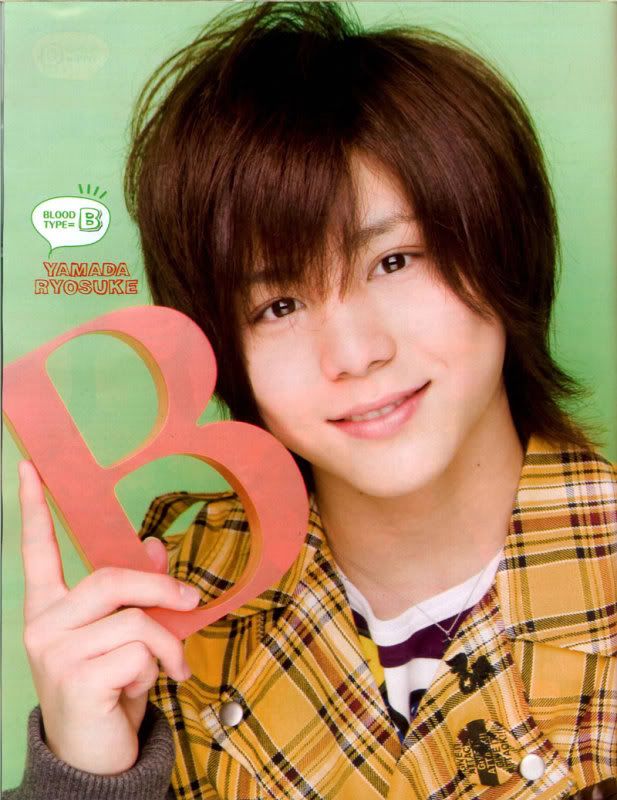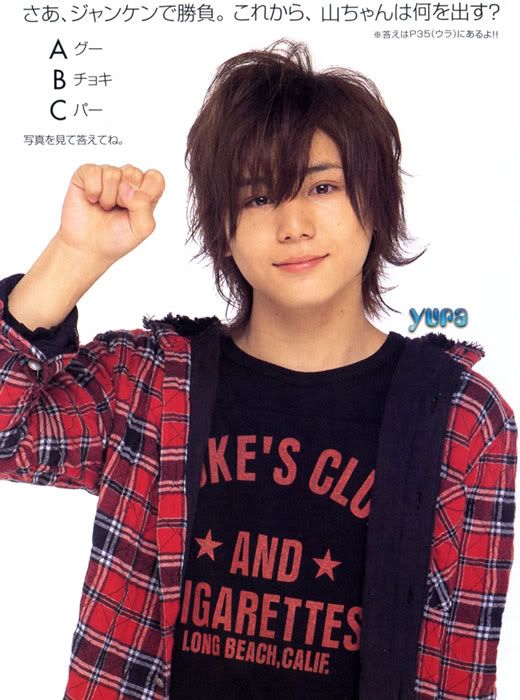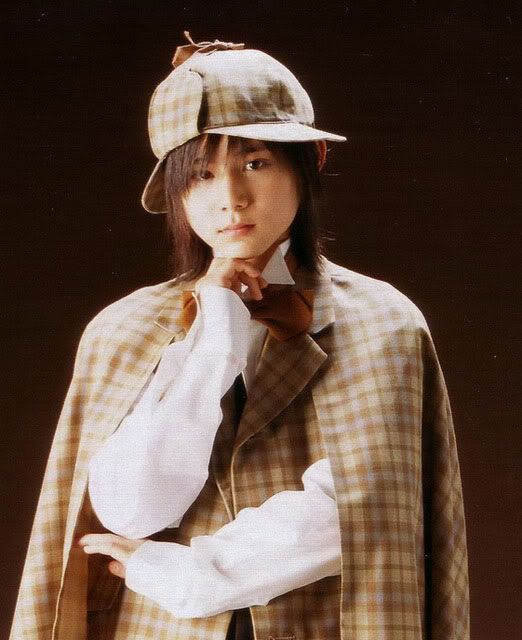 And his cool and performing side
(he can make any kind of clothing look good, and all JE fans know that there are some stylists out these that need to be shot... repeatedly!)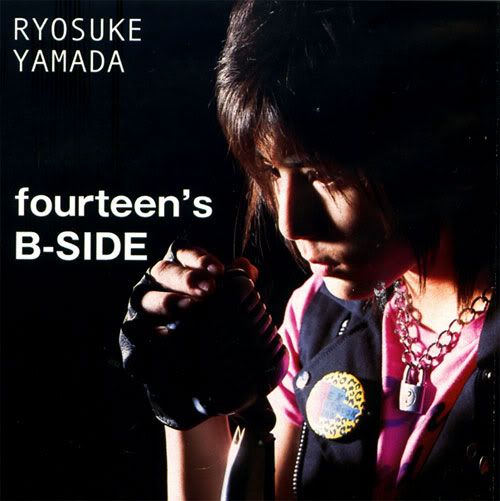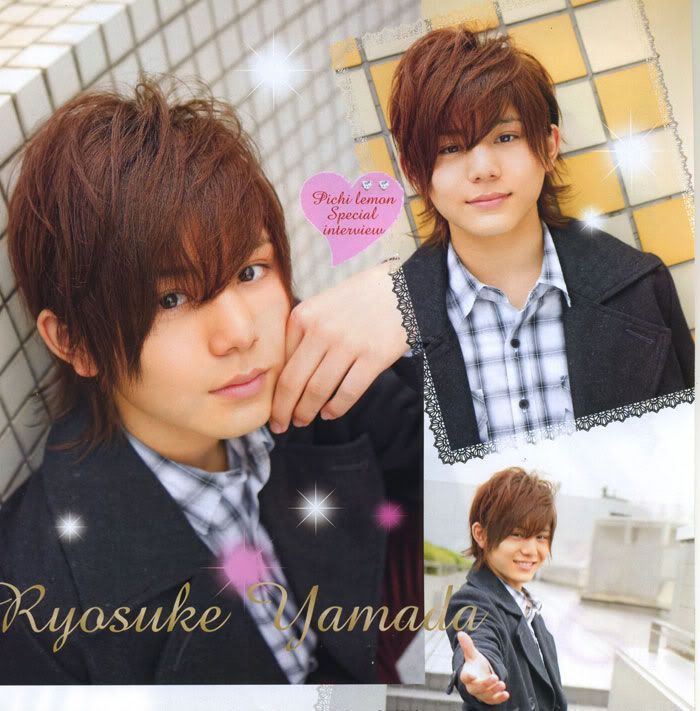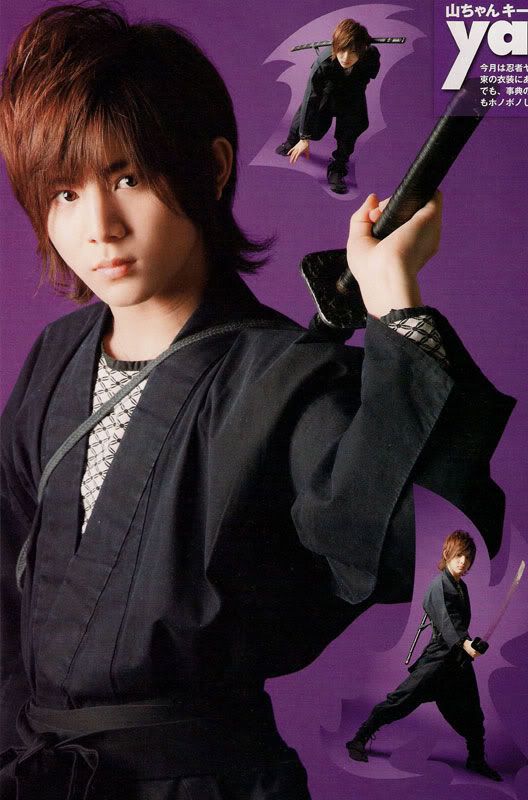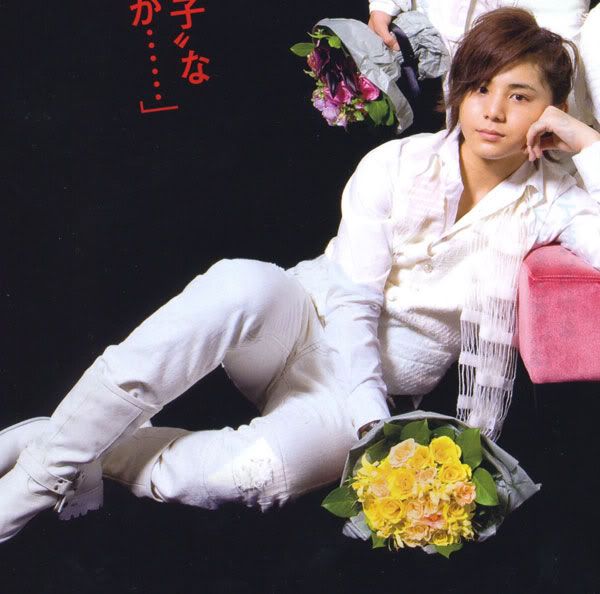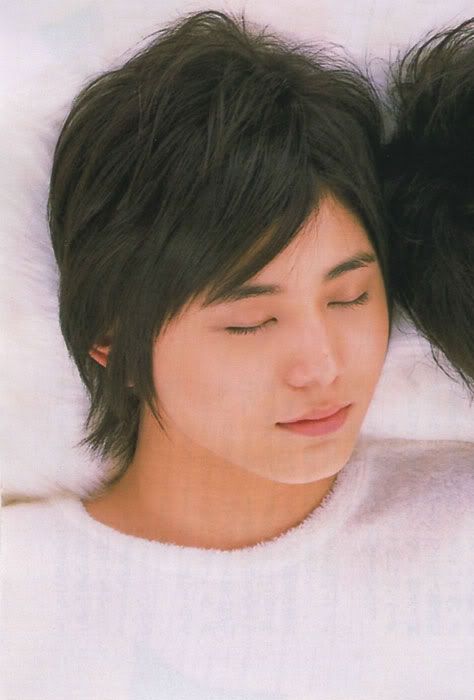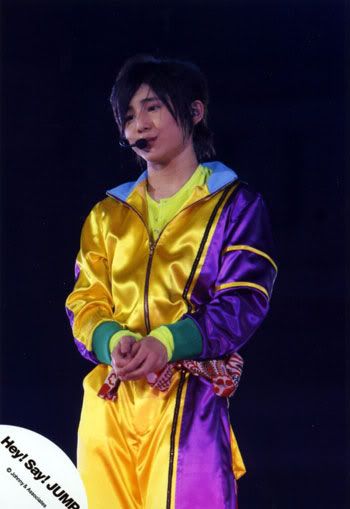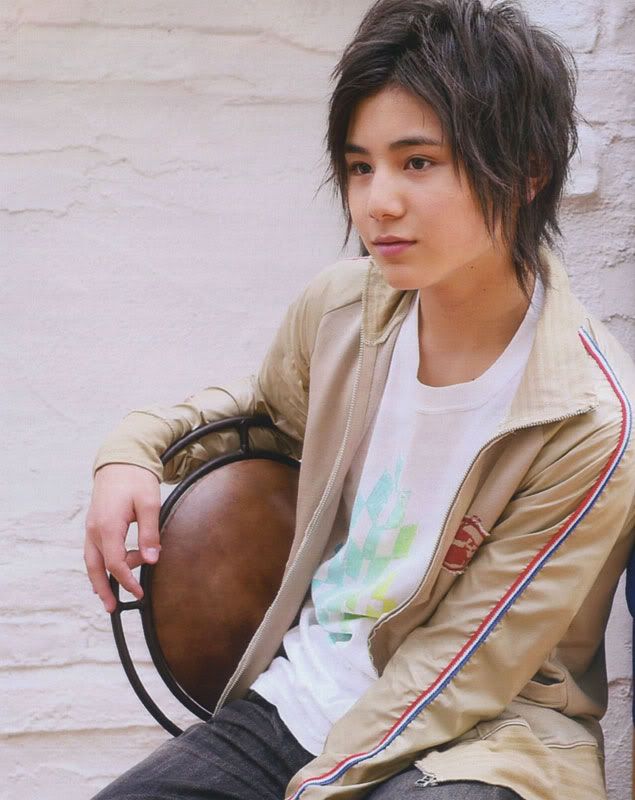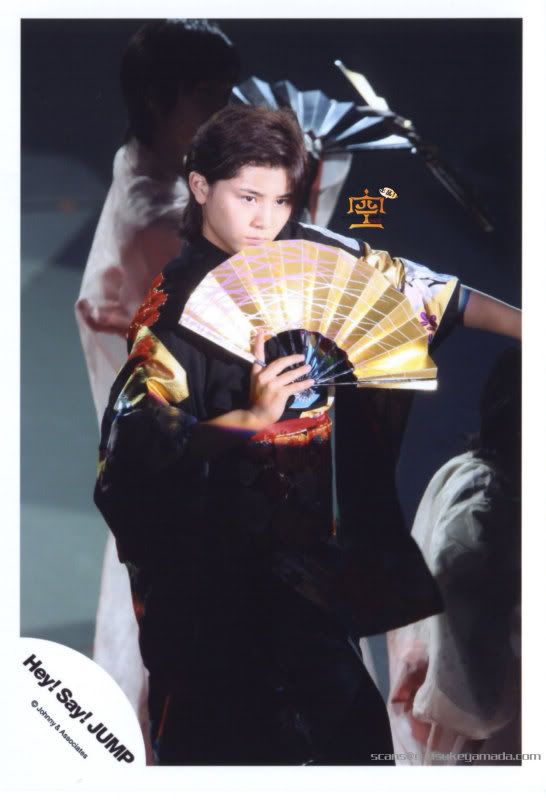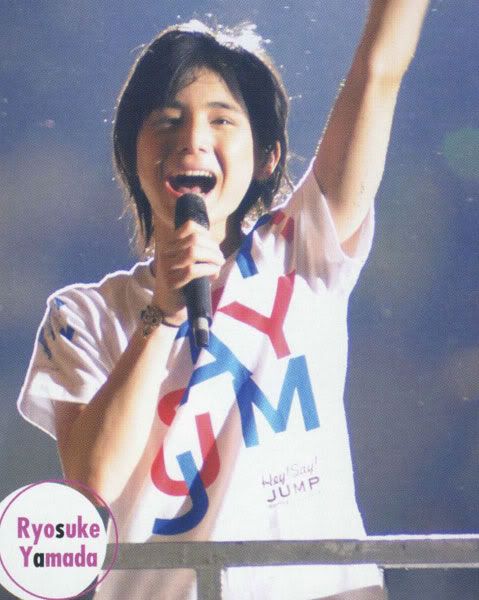 Happy Yama-chan during MCs and what not.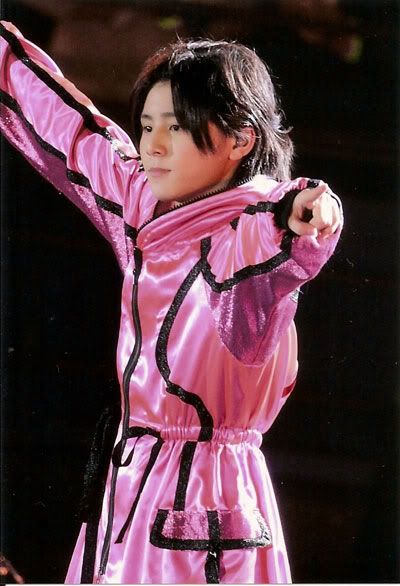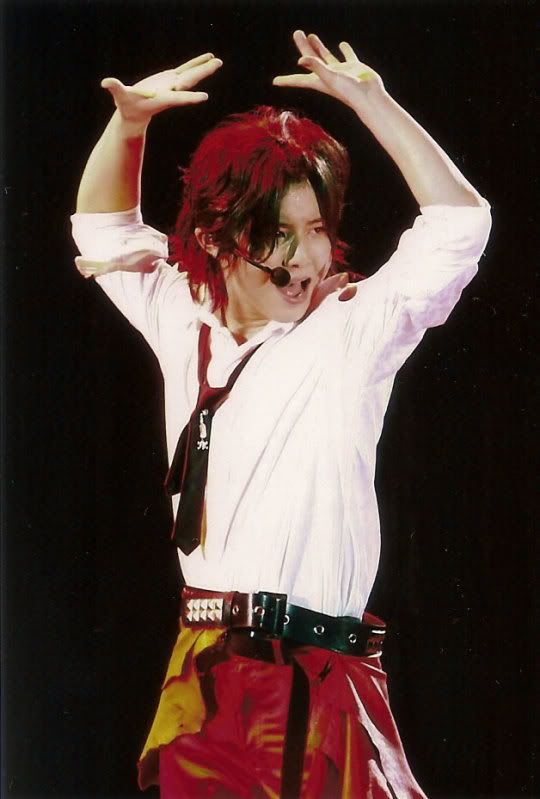 As I said... he makes anything look good and generally looks hot when performing. :)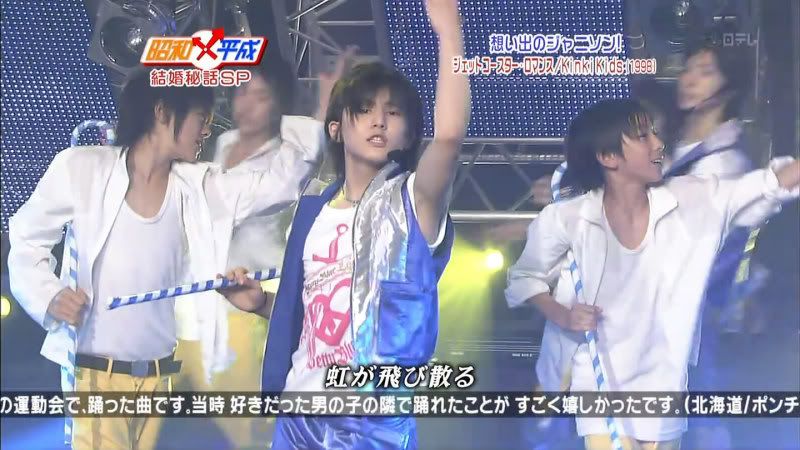 Yamada can be such a pimp, they even give him a cane to look good. ¬_¬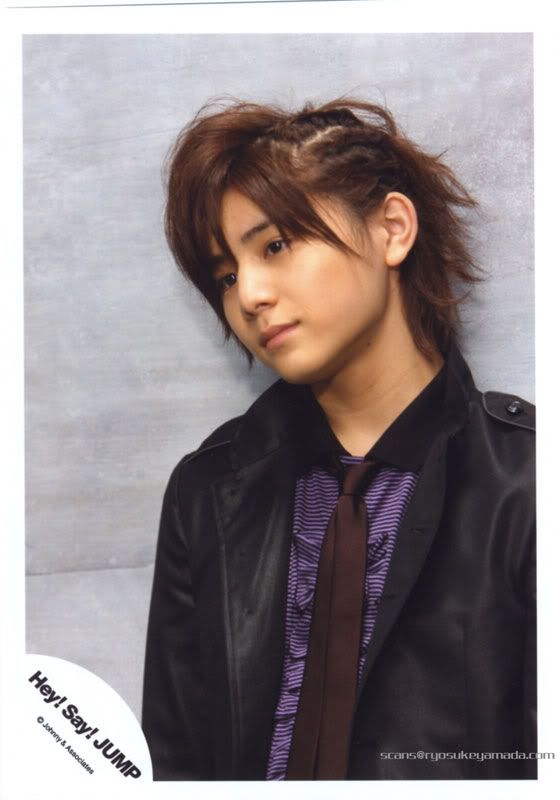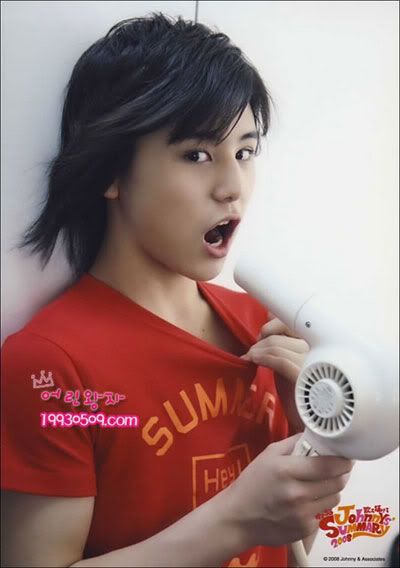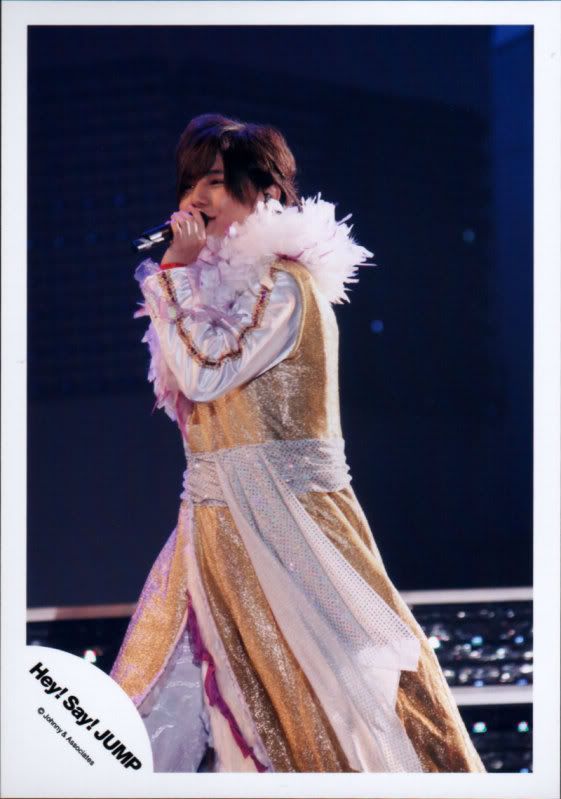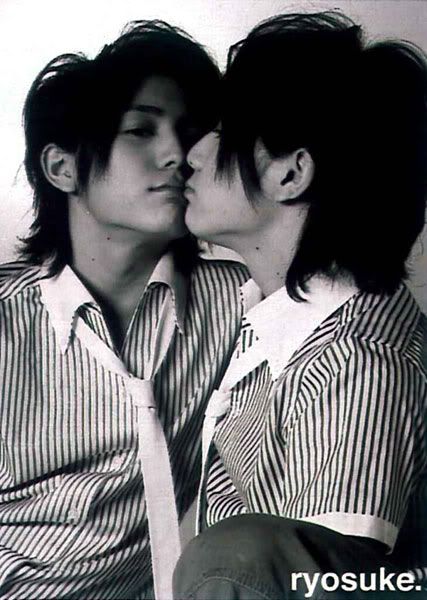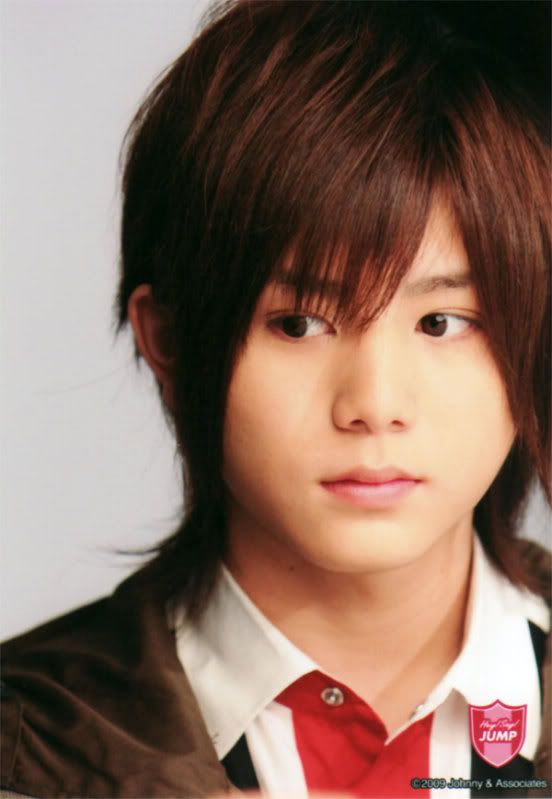 Umm... try not to nosebleed over your keyeboard, k? *feelsreallyguilty*
Change of subject! In January 2008 he was casted in Kamenashi Kazuya's drama,
One Pound Gospel
. I have yet to finish watching that. :O
Right after One Pound Gospel, April 2008, he filmed a special with Nakajima Yuto, Chinen Yuri and Arioka Daiki,
Sensei wa Erai
!
In June 2008 (busy bee like he is) he was casted as Furuhata Ninzaburo in
Furuhata Chuugakusei
.When I saw this tanpatsu I couldn't help but make this connection:
Yama-chan and
Fukuda Mayuko
.Mayuko was in
Jyoou no Kyoushitsu
(The Queen's Classroom) with Shida Mirai.And
Shida Mirai
is Yama-chan's co-star in Tantei Gakuen Q. I was very amused for some reason. :D
Anyway, moving on. Yamada was really cute as Furuhata.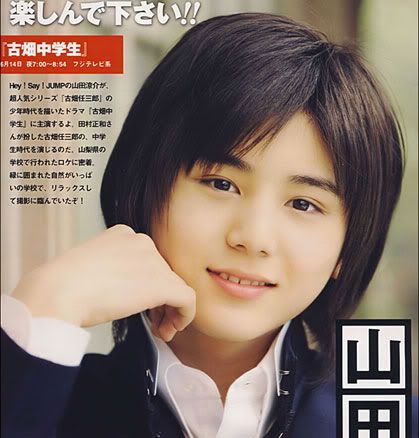 I always forget that Furuhata Chuugakusei was filmed after Tantei Gakuen Q/One Pound no Fukuin/Sensei wa Erai.

It was said in interviews that Nakajima nad Chinen (mostly) wanted to do another drama where they could be Yamada's classmates as in Sensei wa Erai they didn't get this chance. Filming the special was so much fun that they all wanted to repeate it and since it got good rating... Scrap Teacher happened.

This time Yamada, Chinen and Daiki are tranfer students to the middle school Nakajima attends. More like... super elite middle schoolers, but I suggest watching the drama for the goodness of this OT4.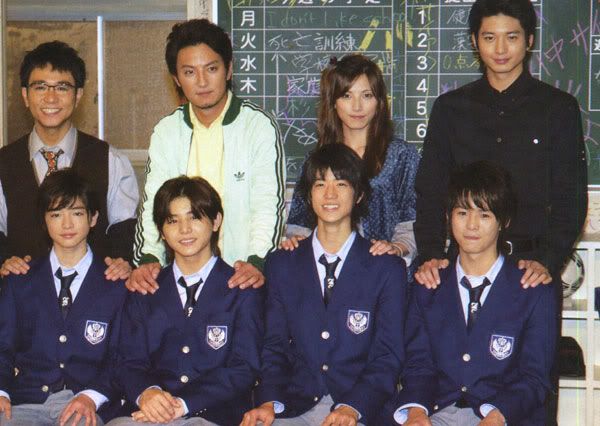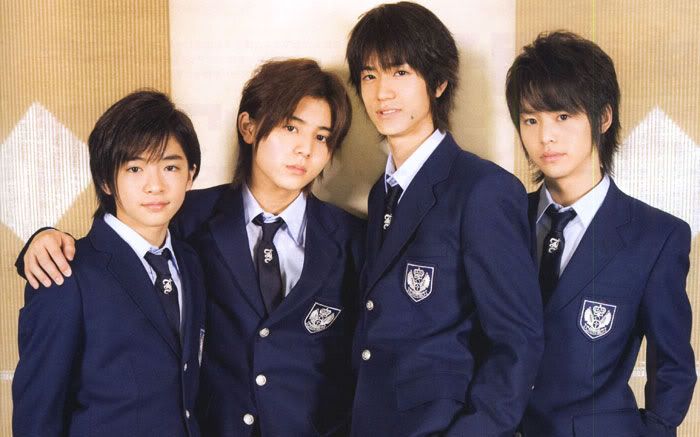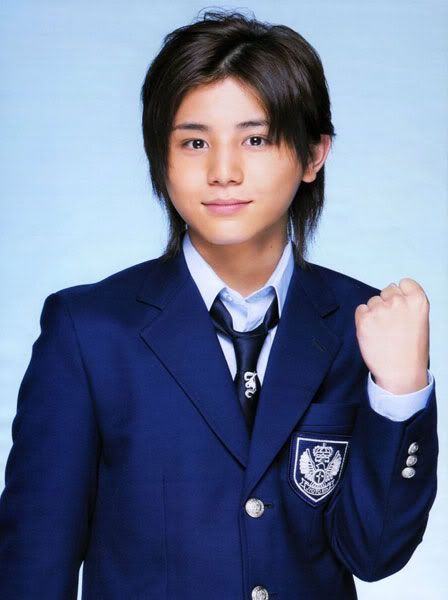 I'll take a moment to point out that everyone likes pinching Yamada's cheeks.
In fact Chinen must be rather fascinated by this. *pinch*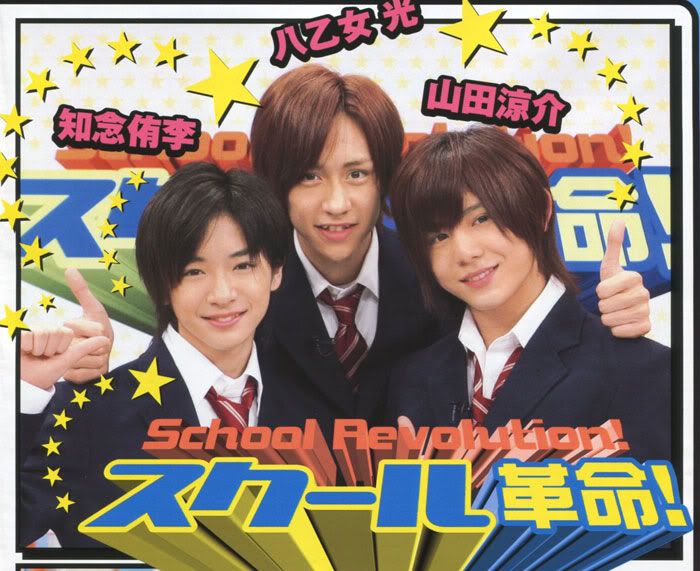 Yama-chan and Hikaru's voices sound really good together, btw. I approve of this.
Houkago Revolution
(meaning After School Revolution) is the same music as Jounetsu JUMP with different lyrics.
But it's like they sing the same song over and over again, ne?
Jounetsu JUMP
goodness. You choose which one you like best. I found out that I really like the word
houkago
. O_O Nevermind.
So Yamada keeps himself busy and hopefully we'll get to see him a new drama. *wishes*
Yamada
receives a lot of love from the other members
of Hey! Say! JUMP.
PROOF~~~~ (I actually went through all my scans... XD)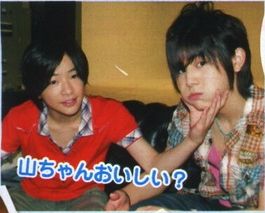 YamaChii. Yamada has a very squishy face, as Chinen demonstrates.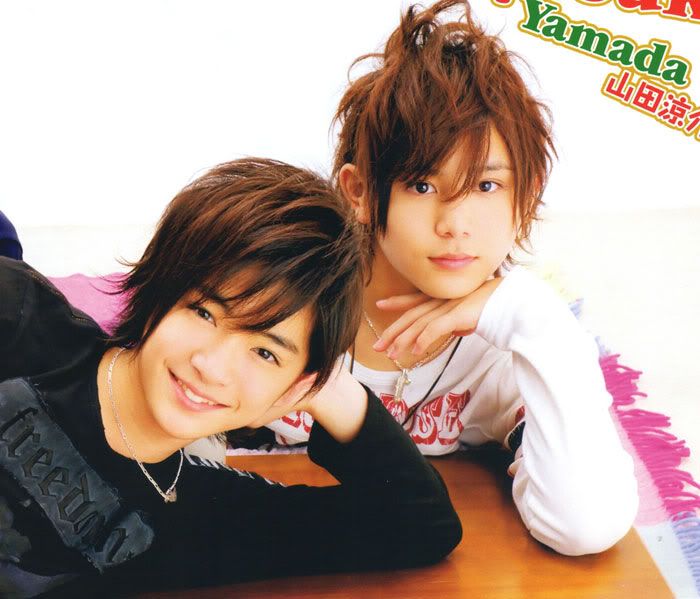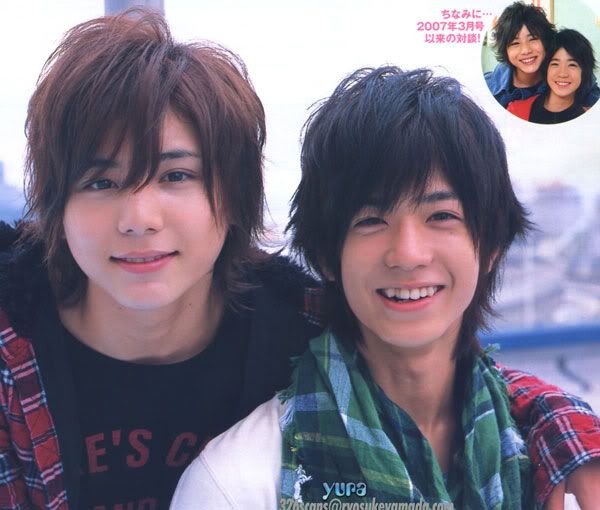 I can tell you that Myojo really supports YamaJima.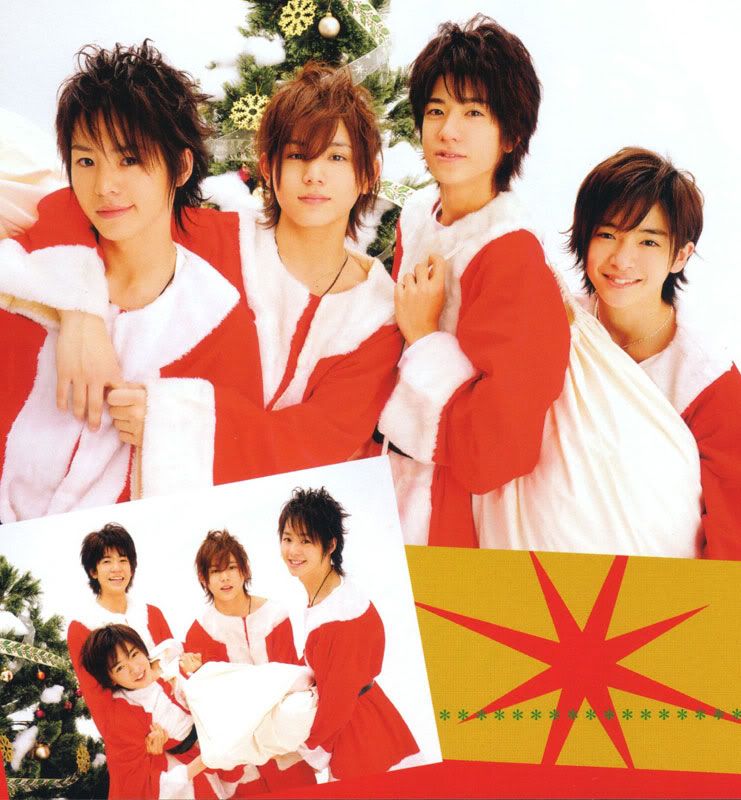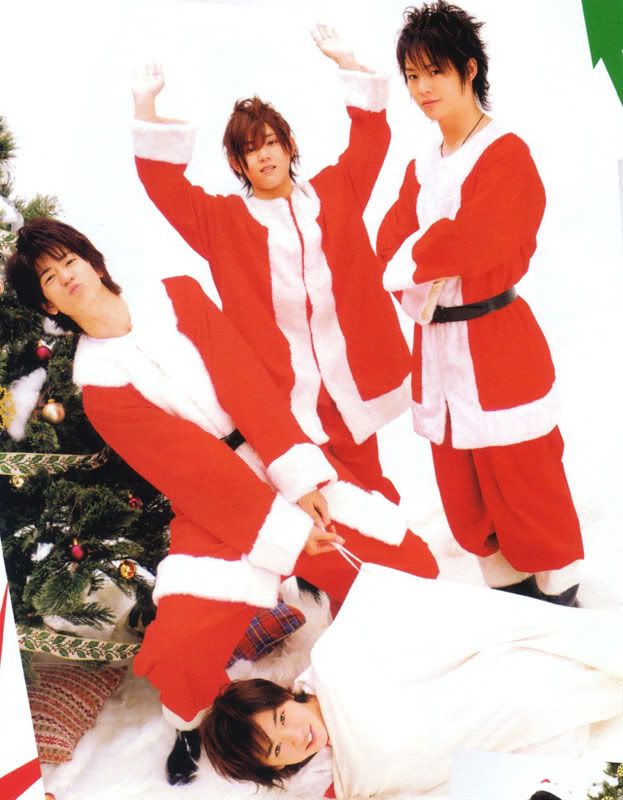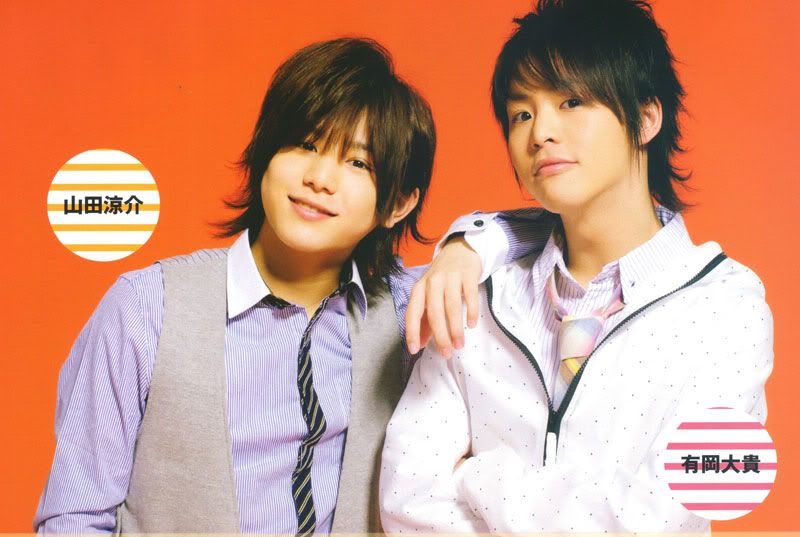 DaiSuke tend to be general dorks when they're together at photoshoots.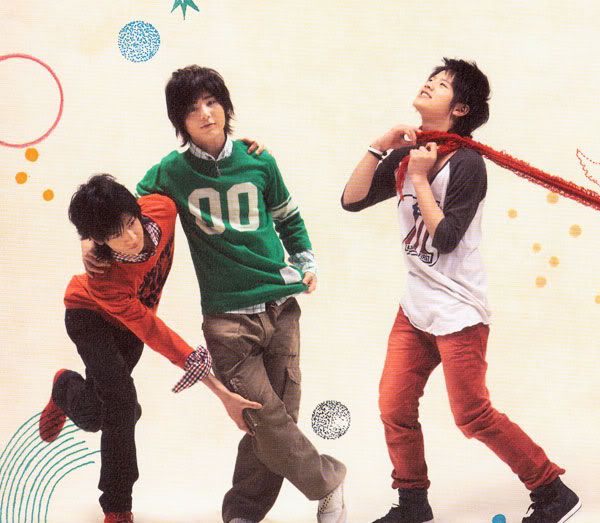 Keito wants some too... I don't know if there's other who've noticed, but Keito has become possessive the past couple of months. I'm sure it's only because Hey! Say! 7 got a chance to grow closer due to the concerts, but Keito... mmmm... wait, wrong post to fangirl about him. ¬_¬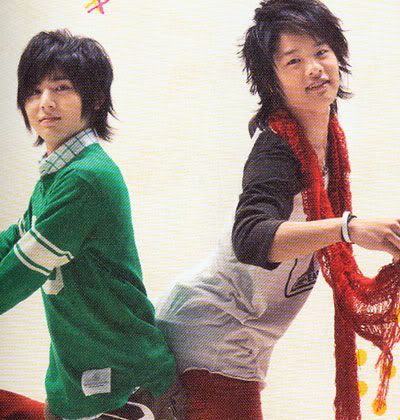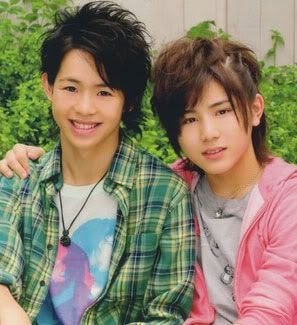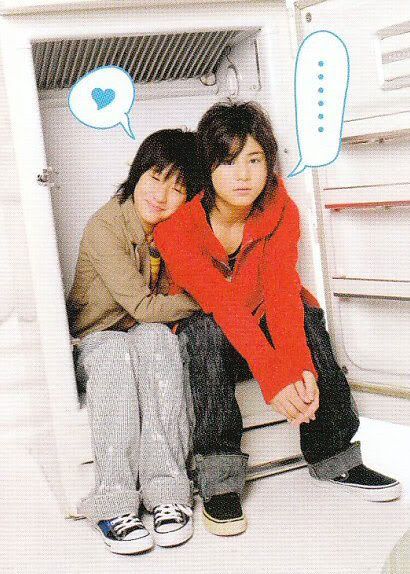 And some MoriYama....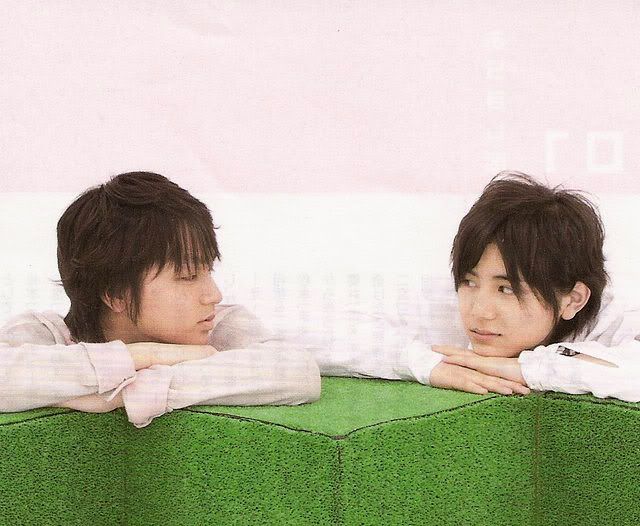 Beware of Inoo who may seem too ordinary to do anything like steal Yama-chan, but wait a bit. (Inoo is actually really cool)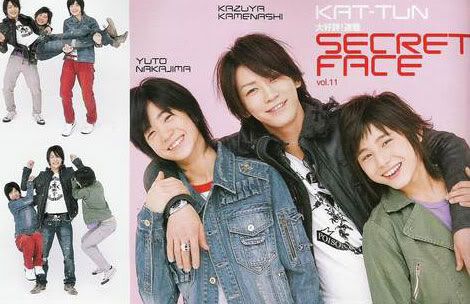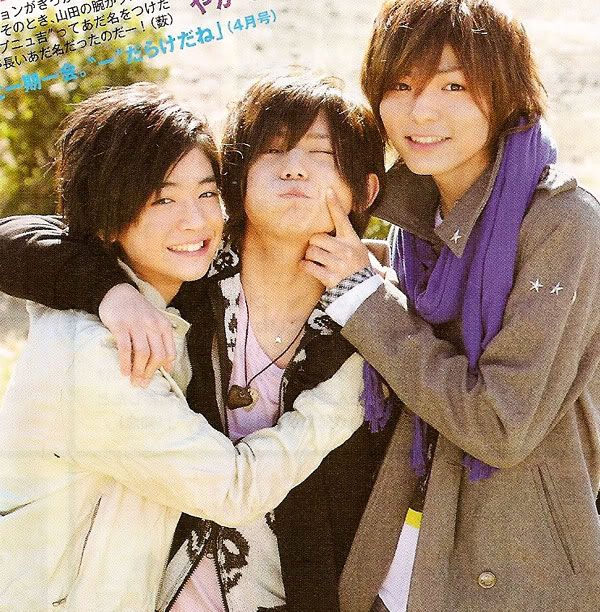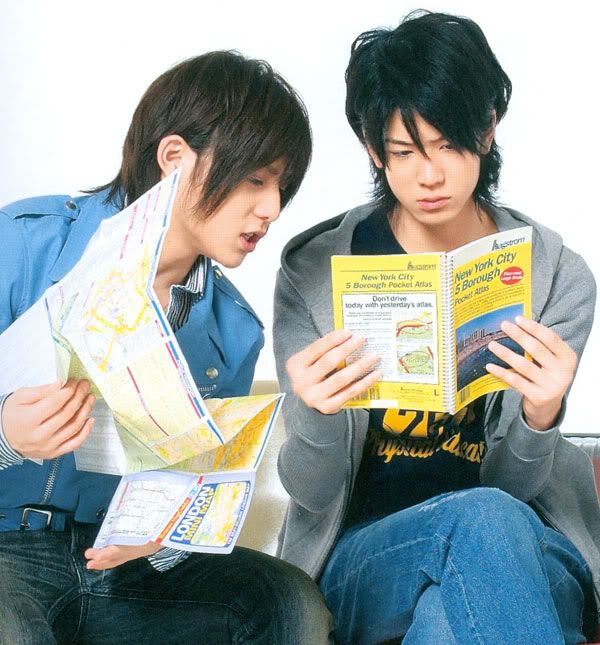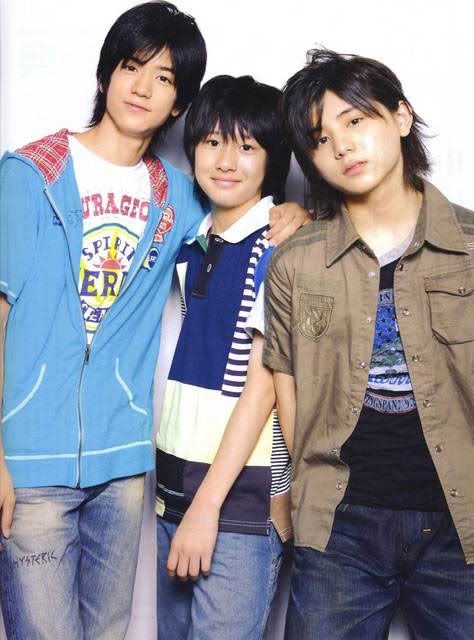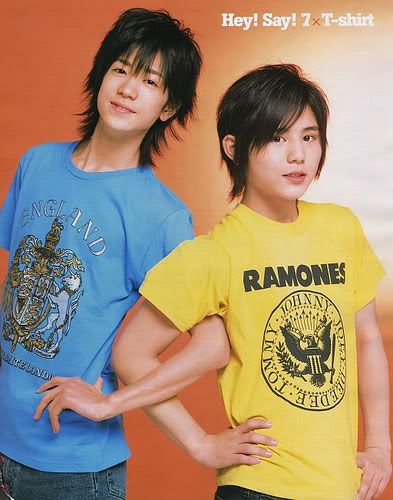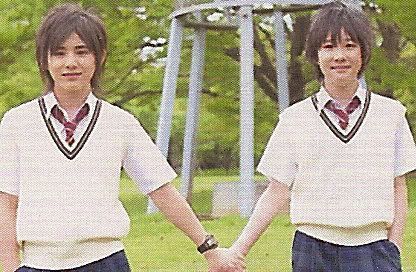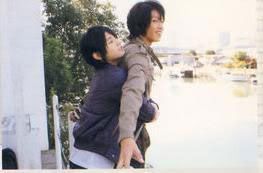 And Yamamoto (hahahaha~ different combination) and Takayama (that should be Yamaki, but anyway) in a true Titanic fashion.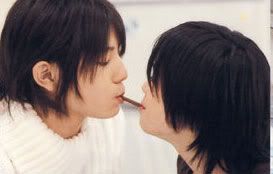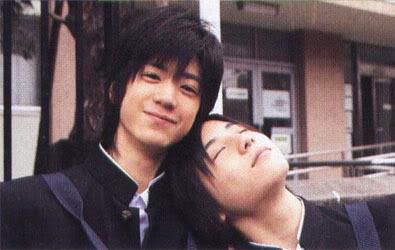 YamaJima is sitll the happiest! <3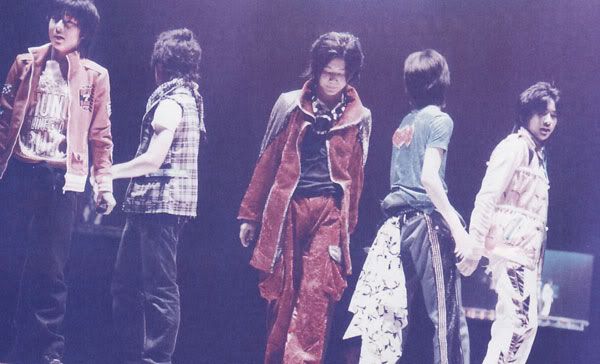 So I'm posting this because I love this photo.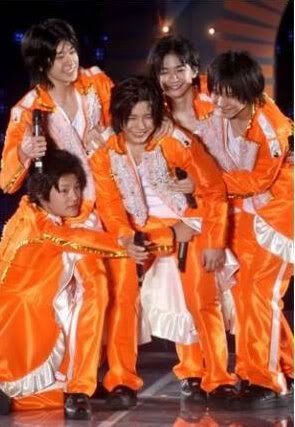 Everyone wants a little bit of Yama-chan... and Ryutaro's just shy and modest. :) I want a Mon7cy concert DVD. :O
In April 2009 Yamada, Nakajima and Chinen entered
Horikoshi Gakuen
. Many people in entertainment have attended this special highschool (like Yabu, Hikaru, Akanishi Jin, Inagaki Goro, Domoto Tsuyoshi, Tanaka Koki, Tegoshi Yuya...) Daiki is in his last year and will graduate in March 2010, but my point is... the four of them are in the same school and in fact Yamada, Nakajima and Chinen are in the same class for the next 3 years.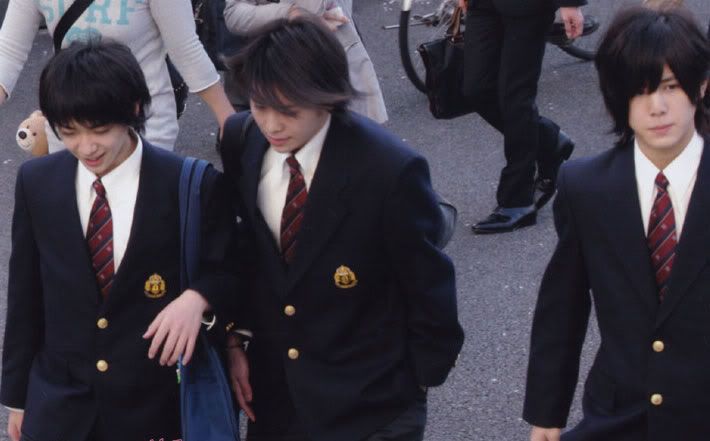 Here's some bonus pictures to prove how cute/random/hot Yamada is.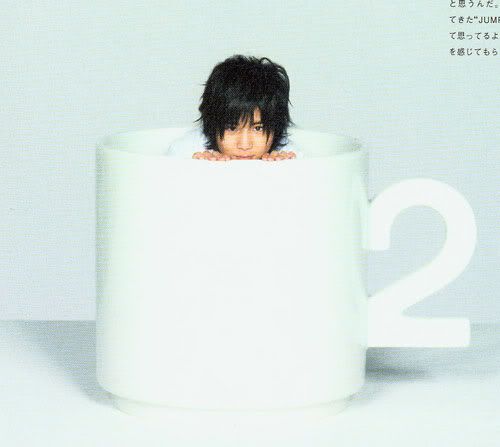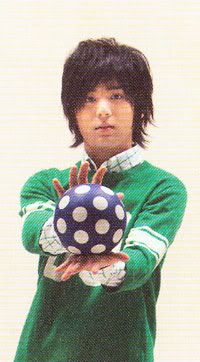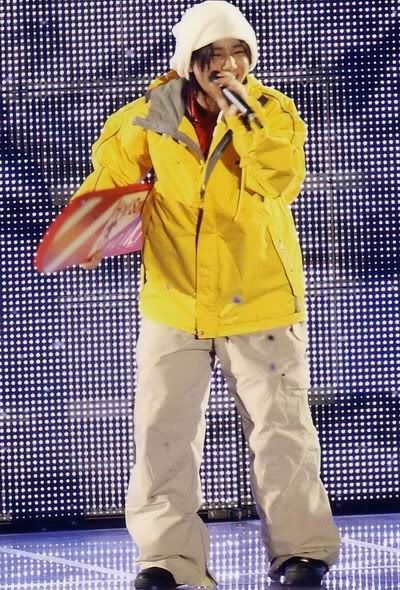 You can put him in a tea cup and take him home. I wish...
He probaly reads too much DragonBall.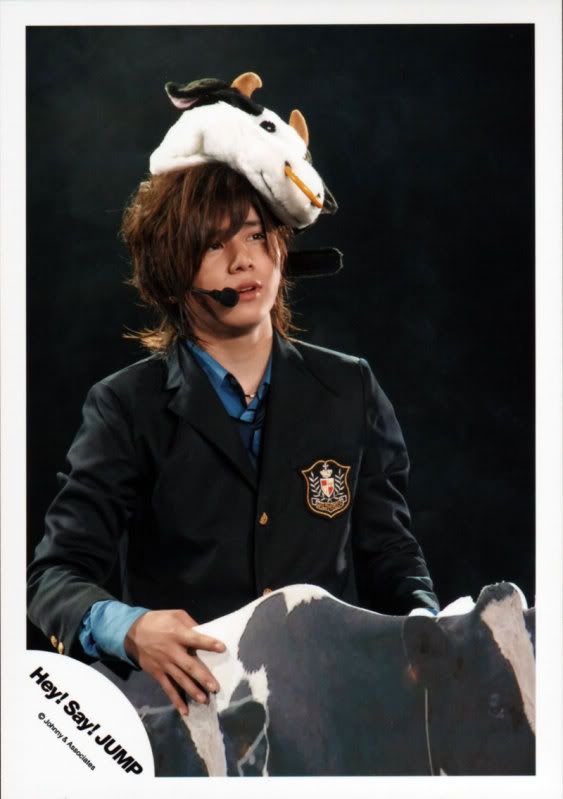 He's a true performer... I don't think anyone can object to that.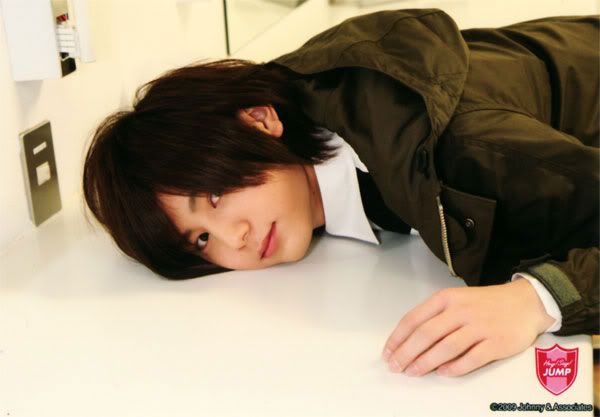 He also knows that all he has to do is pose and look rather adorable in order to win a fangirl's heart. (Worked for me)
He also tends to kill fangirls with his solos.
Here's that other solo: Perfume
. It's my least favourite, but I have a soft spot for Moonlight and Asia no Yoru.
And here's when I run out of things to say, links to give and tissue paper. :D
Yamada always seems to amaze me with the things he can do. Although I'd love to see him act in a very different drama role, I don't wat him to grow up too soon. He keeps saying that he wants to grown up~ >_< Take your time, you're only 16 (!) is what I'd like to tell him. The time will come when you'll be as cool as the sempais you admire and you'll drive and act as good as your favourite actors (although you're pretty good already).
The photographer in me really wants to steal him and take cool photos of him. :) I cannot resist. Maybe one day... I'd love to take pictures of all of them. <3
Since I've been babbling all this time and I always wonder things like this, tell me in which roles you'd like to see Yamada in and why. It doesn't matter whether or not it's from an older or current drama or a manga/anime/Japanese novel that could possibly turn into a drama one day. Share your thoughts~~~
CREDITS:
I really can't remember eveyone, so... much thanks to
hey_say
JUMP fandom, you're too awesome! <3
boys_paper
thankyouthankyouthankyou
stellarsky08
I don't know how you do it, but I love you for sharing everything!
and quite possibly the groups over at
crunchyroll
.
Current Mood:

ecstatic